About Crystal Seas and the Crystal Seas Team
Crystal Seas Kayaking got its start in 1994. Founded by Johannes Krieger, the company provided single day kayak excursions in the San Juan Islands. Not long after, we expanded our program to include multi-day camp-to-camp and inn-to-inn sea kayaking tours.
The 2000s brought new opportunity. With growth in mind, we created TerraTrek Bicycle and Multi-Sport Vacations, our premium bicycle tour branch. The parent company later purchased, San Juan Excursions, offering whale watch and wildlife cruises. The company also expanded to offer tours in Bar Harbor Maine, the Florida Keys, Florida's Everglades, and Costa Rica. After 11 years exploring in these locations, we brought the focus back home.
Today, Crystal Seas operates solely in the San Juan Islands. Our tours include sea kayaking, bicycling, and blended tours that combine biking, kayaking, hiking, and whale watching cruises.
Since the early days, Crystal Seas overarching goal has been to deliver an unforgettable San Juan Islands experience with best of the best treatment. The heartbeat of the Crystal Seas experience is our guides and staff. Each guide is selected for their leadership skills, integrity, sport and environmental knowledge, and enthusiasm. We all work hard, play hard, and are dedicated to making every guests' experience top notch. Our team is one of the most experienced in the kayaking industry and we continuously educate and challenge ourselves to higher levels.
Whether the adventure is in the water or on land, we always keep your experience in mind. From the quality of food we prepare, to accommodations and gear, to the people we bring aboard as guides, we aim to exceed your expectations.
COMMUNITY FOCUS
Crystal Seas also believes in giving back to our community. As much as we possibly can, we buy local products and produce, and hiring our team from the islands. The company also donates to a variety of programs and individuals on the islands that focus on education, health, environment health, and animal rescue.
Meet Our Guides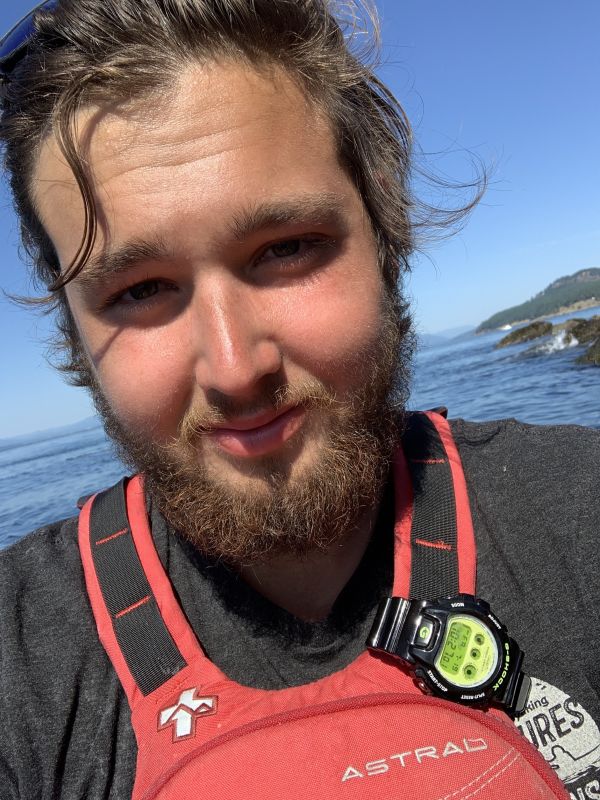 Andy
(started in 2019) - Andrew was born and raised on a small island in Southeast Alaska. During his time in Alaska he spent most of his life on the water and coastal mountain range. After he graduated high school, he became a sea kayak guide in Alaska. Eventually, he headed to New Zealand to travel and be a kayak guide down under! These days, Andy spends his time traveling around the world during the off season to places like Germany, New Zealand, Mexico, and Austria. He loves to answer all your questions about wilderness in the Pacific Northwest and kayaking.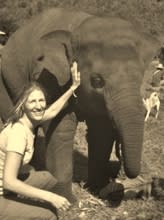 Angie
(Started in 2002) - Office manager- Angie runs our T-Shirt Shop and office in downtown Friday Harbor. She grew up in the San Juan Islands and loves living here because of all the wildlife she gets to see just on a simple drive to town! She loves to explore the world and has been to Australia, New Zealand, Mexico, Central America, Germany and Thailand. She'll help you choose which tour is best for you through e-mail and phone calls and give you advice about where to dine and stay. She has been sea kayaking San Juan Islands west side since 1992 and is happy to help you plan a trip for your family.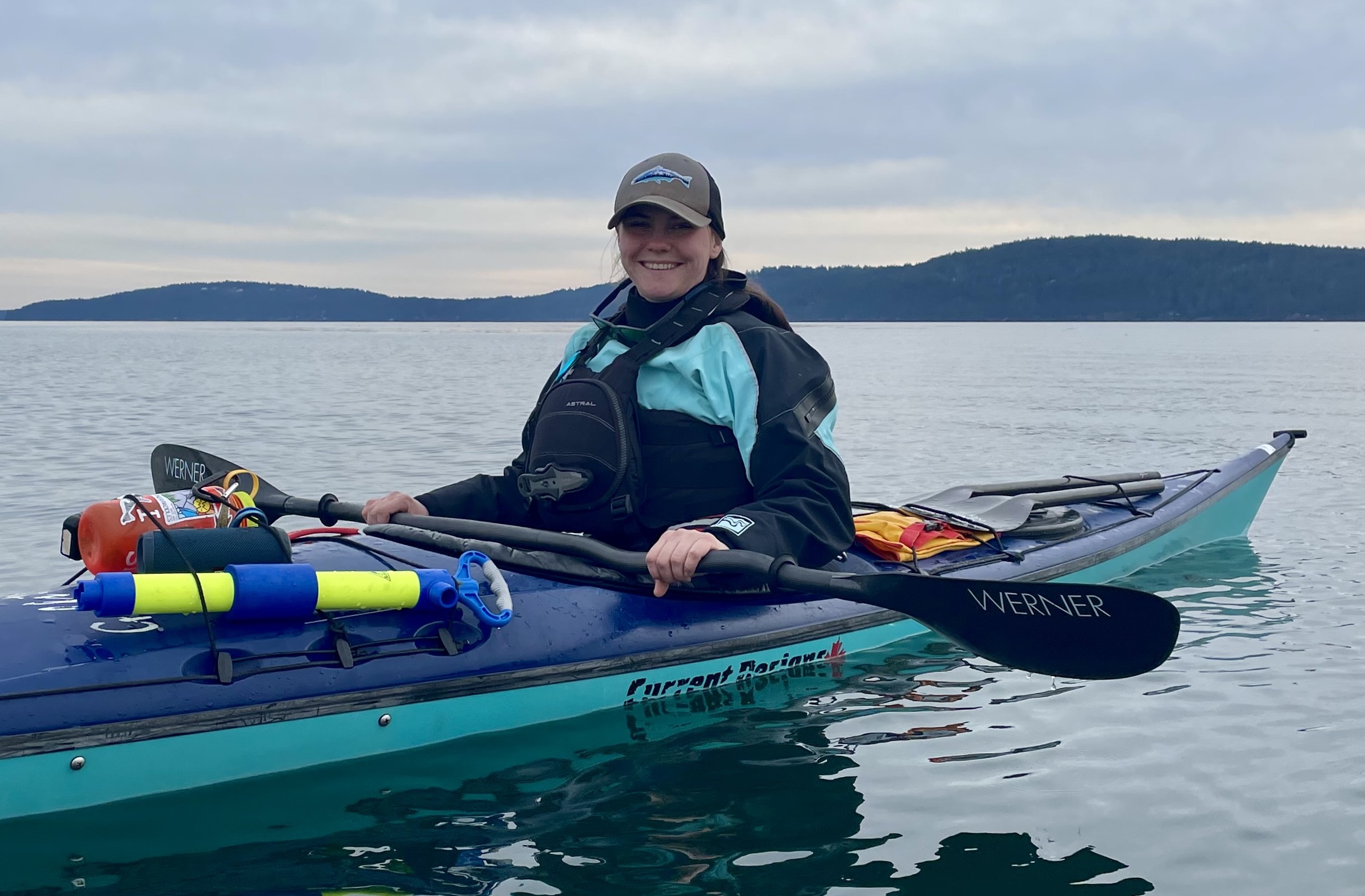 Annie
(Started in 2018) - Field Director/Guide - Annie was born and raised in the mountains of upstate New York. When she was younger she loved whales and knew she wanted to work and live around them. Getting people outside and experiencing nature has always been important to her. In addition to guiding she also does behind the scenes work supporting guides and maintaining gear. You can find Annie sending tours off on their adventures, resupplying on a beach or welcoming them home.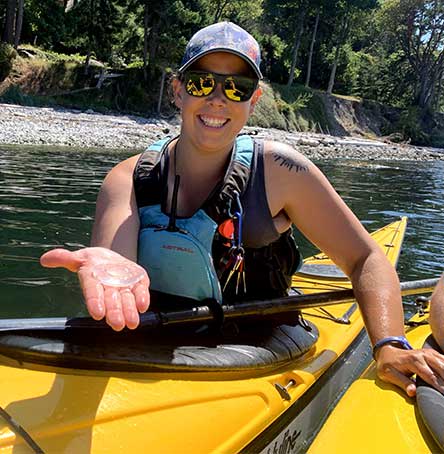 Brooke
Brooke grew up spending her time on the lakes, rivers, and forests of Michigan. She graduated from Central Michigan University in 2015 with a degree in Outdoor Recreation and Environmental Science all while spending almost every weekend biking, rock climbing, skiing or ice climbing. She spent her summers working at camps teaching youth how to kayak, canoe, sail, and paddle board. After graduating, she spent a year in Colorado working with youth and their families in the outdoors, inspiring environmental stewardship and sustainability through natural science education. She then took that mentality to Duluth, Minnesota where Lake Superior and the St. Louis river provided a perfect playground to kayak and whitewater raft. Since moving to Washington, she has fallen for the Salish Sea and the wildlife that call it their home.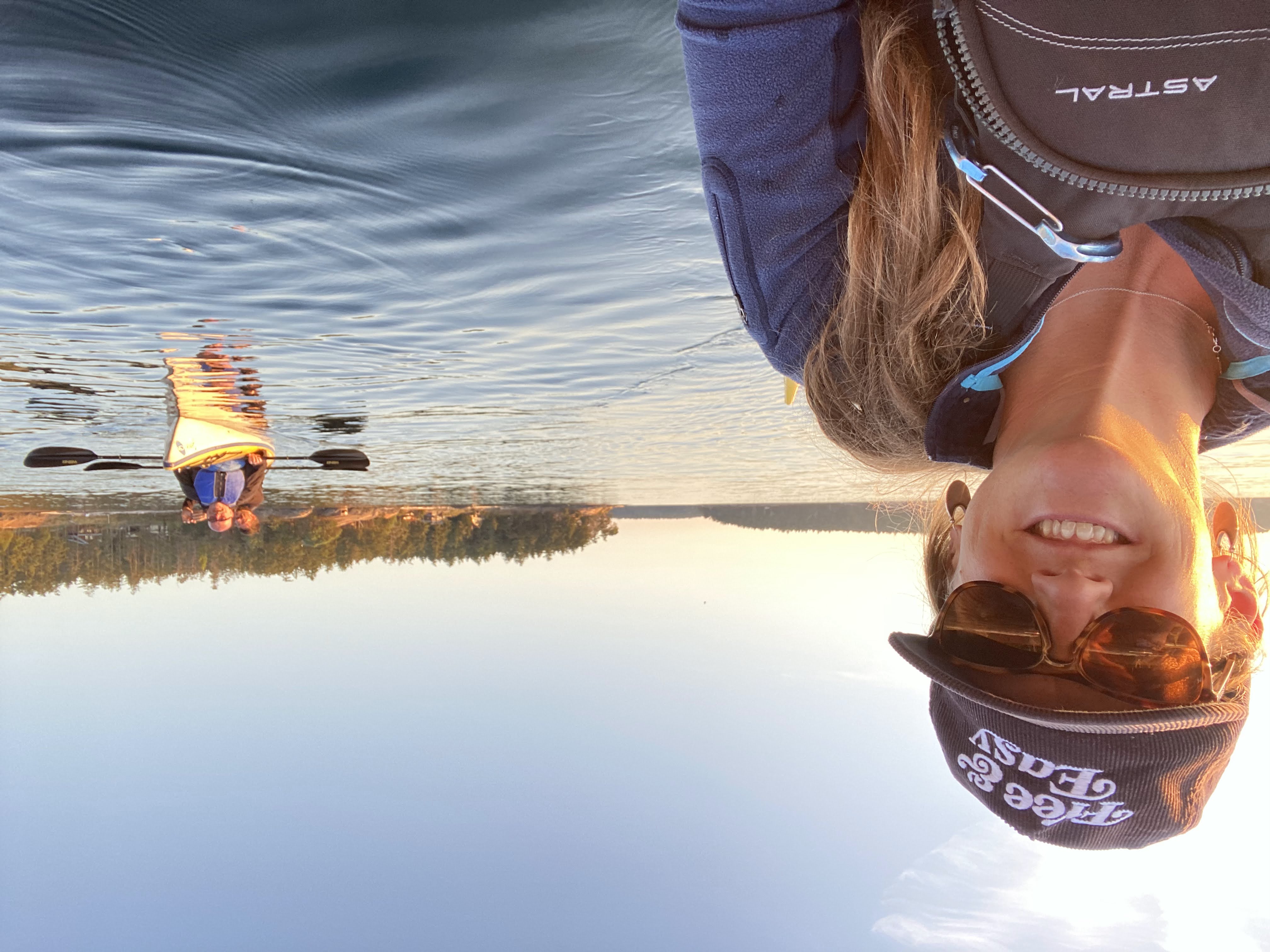 Carrie
(Started in 2006) - Owner/Operations Manager - Carrie is the behind the scenes person who makes sure everything is running perfectly while you are on your trip. She is in charge of making sure our gear is in top working condition and that your guides have the support they need. You may eat some of her famous homemade pesto during a picnic lunch. Carrie grew up boating on the lakes, rivers and coastlines of Maine. She became a registered Maine Sea Kayaking Guide in 2004 and has since spent her time exploring coastal regions around the world. She has been sea kayaking in New Zealand, Australia, Bermuda, Costa Rica and guided tours in Mid-Coast Maine, North Carolina, the Florida Everglades and now the San Juan Islands. Carrie is also an avid biker and has been on 2 different month long road bike trips. In 2018, Carrie became a certified bike mechanic after completing a training course with United Bicycle Institute. She is a recreation and outdoor enthusiast who enjoys sharing her love for outdoor recreation with her guests on Crystal Seas and TerraTrek Tours. Carrie, her husband Isaac, and their 2 darling daughters call the San Juan Islands home.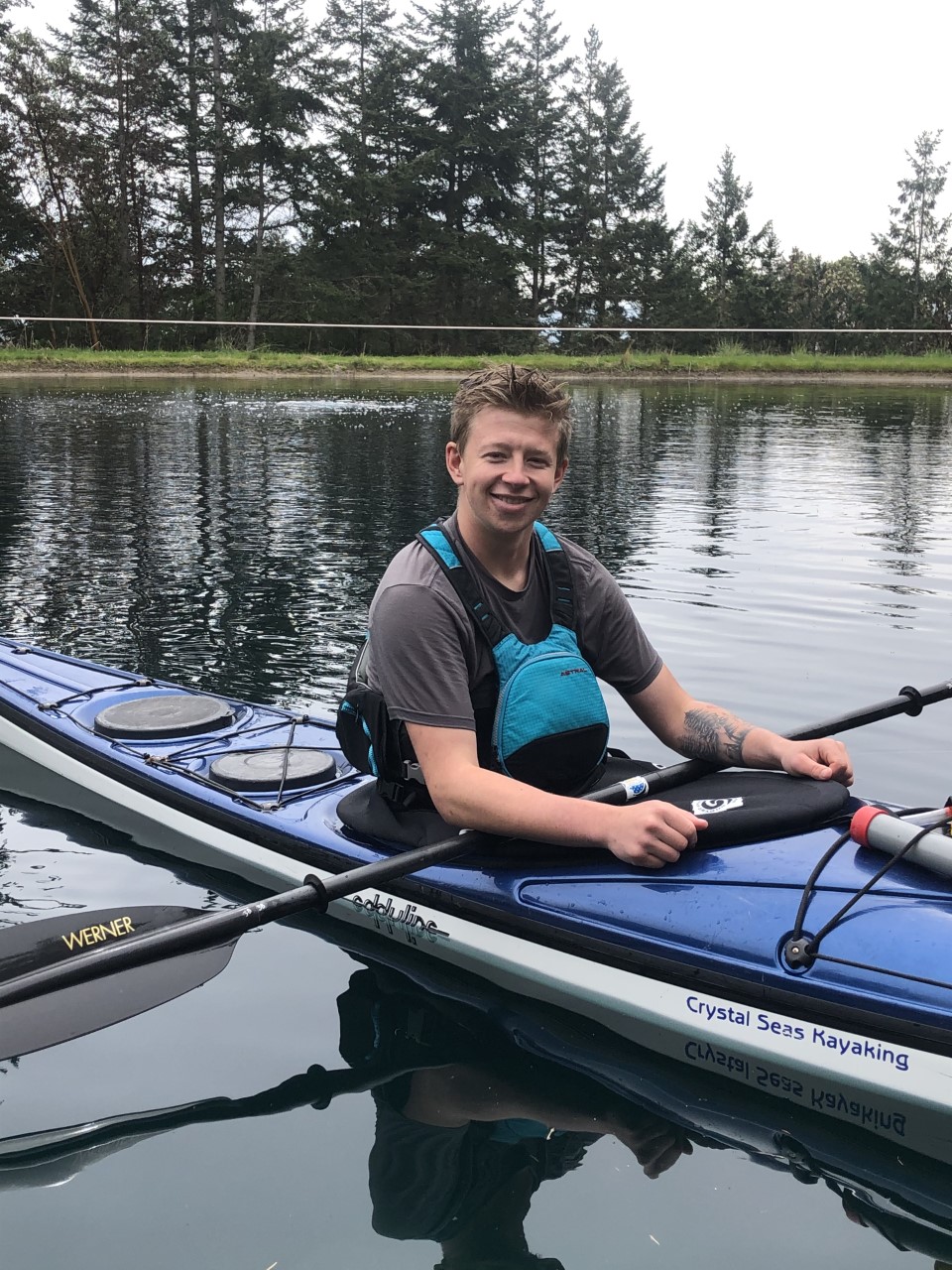 Gunnar
(Started in 2019) Gunnar is a seventh-generation islander; born and raised on San Juan Island. He later moved to Orcas Island and graduated high school there. Gunnar has a love for the many beautiful hidden spots on the island, as well as an adoration for the marine wildlife found here. You can find Gunnar sea kayaking, whitewater kayaking, biking, one wheeling, snowboarding, or just sitting at the beach enjoying life. Gunnar is currently attending Portland State University, as well as working at a yacht tender dealership in the off-season. As a guide, Gunnar likes to get to know his guests on a personal level, which is his favorite part of the job.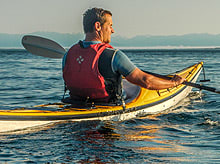 Johannes
(Started in 1994) - Founder/Owner - His first time to kayak in orca waters was when he was five years old with his father along the shores of San Juan Island. He began guiding tours at the young age of nineteen. What started as a summer job, turned into a lifetime career. Today you will find Johannes planning tours for our guests or guiding a trip along the west-side of San Juan Island. You will always sense his commitment to providing our guests with the highest quality kayak and bicycling tours imaginable. Mail keeps pouring into the office addressed to Johannes, reminding us of how 'top rate' Crystal Seas has become. Johannes is on the San Juan Island Parks Commission, the San Juan County Marine Resources Committee and with the San Juan Island Kayak Association.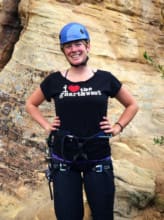 Krista
Started in 2015 - Krista's love for the outdoors began in the adventurous town of Bellingham, WA where she was born. She graduated from Western Washington University with a degree in Outdoor Recreation, and has since been pursuing skills in kayaking, rock and ice climbing, backpacking, rafting, backcountry snowboarding, mountain biking and any new activity that comes her way. She has a variety of experience working with youth, people with disabilities, and also guiding mountain treks in the Andes of Ecuador. In the winter, Krista is found cooking for the employees of Mt.Baker Ski Area. She's always up for good conversation on long or short paddles, so don't be afraid to ask questions!
Owen
(Started 2022) Owen is a High School teacher and ocean enthusiast. In college he spent hours canoeing the rivers and lakes of Maine collections data on salmon populations. He now works at a Ski academy in Maine during the year and spends the summers soaking up the sun.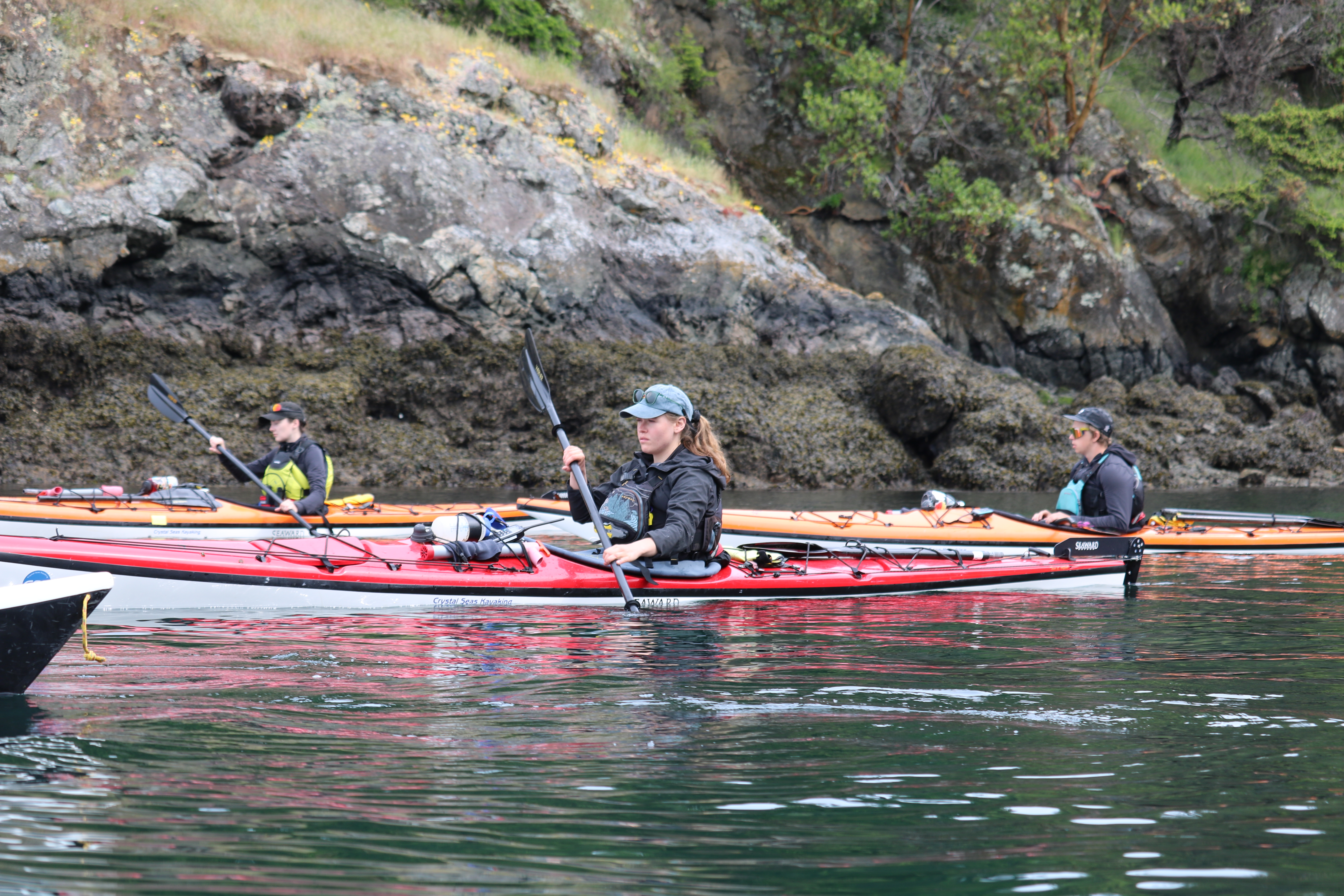 Sierra Spader
(started 2022) Sierra grew up in New Mexico rafting every summer and started guiding in Washington while she was in college. She got her first sea kayak guiding job in San Diego to get over her fear of fish. It didn't work. She now teaches at a ski academy in Maine while getting her Masters in Teaching online from Mount Holyoke, and spends her summers sea kayak and raft guiding.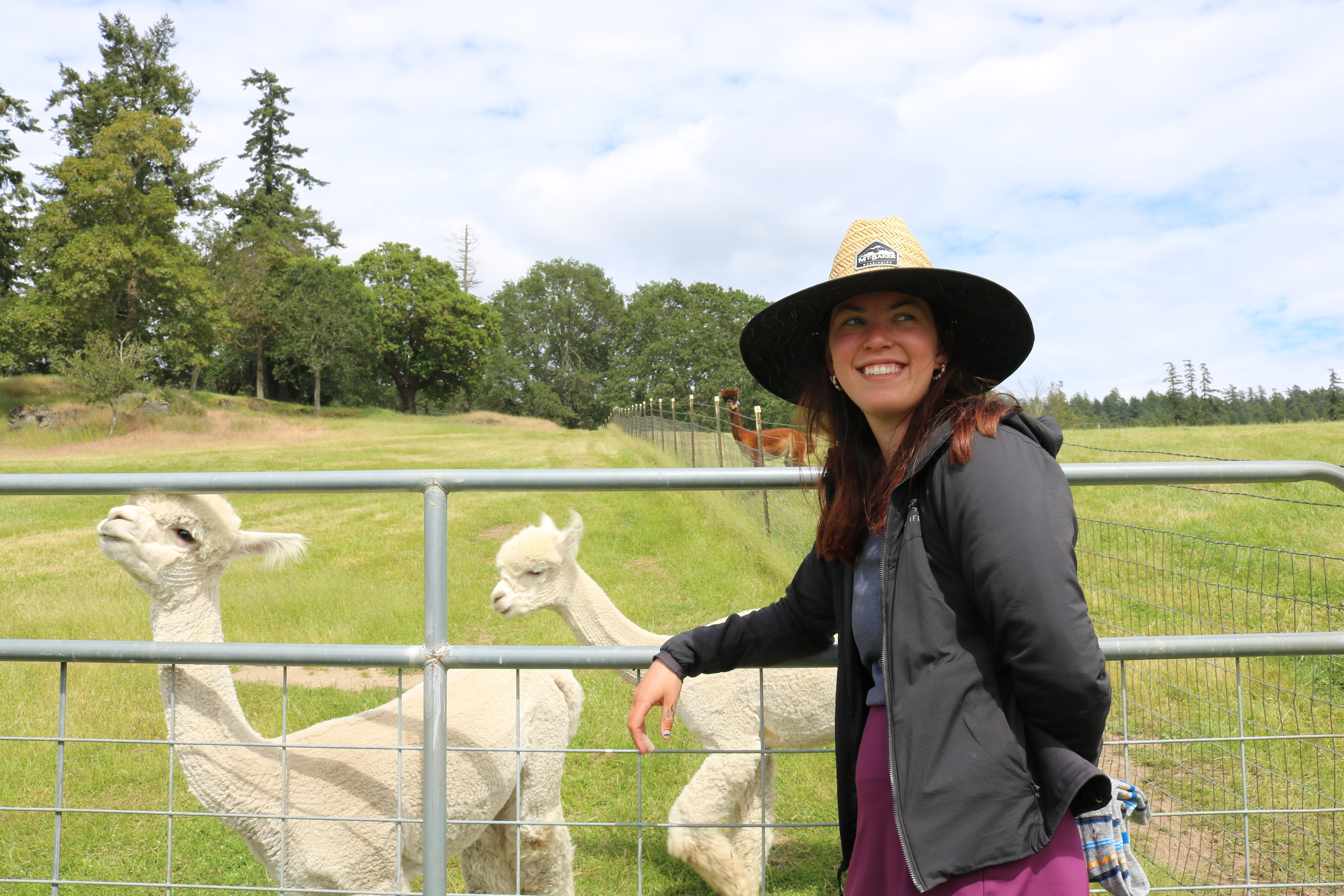 Stella Sisson
Stella grew up in Seattle volunteering every weekend at the aquarium as a naturalist, chatting with guests about the interconnectedness of the ocean and all the cool creatures that live in it. She recently received her degree in Recreation Management and wants to make the outdoors a more equitable place by creating a welcoming, low pressure environment. When she's not kayaking, you can find her ski touring in the Baker backcountry or backpacking all over Washington.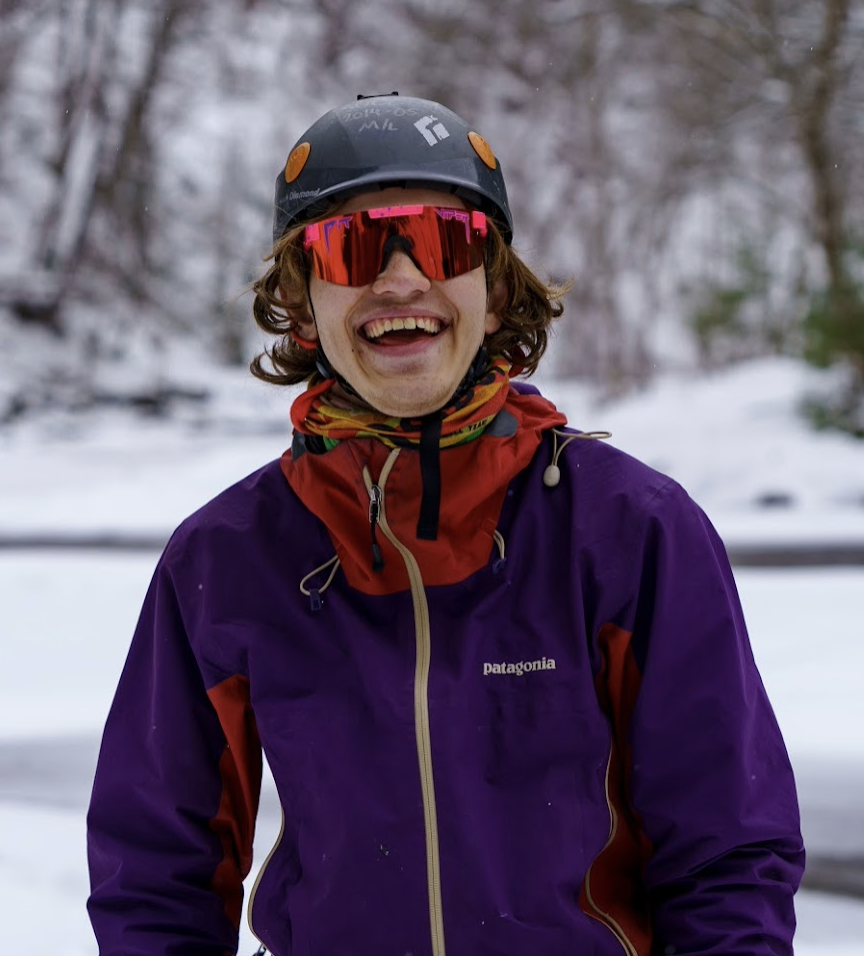 Tim
(Started 2021) Tim grew up in Virginia and grew up backpacking around Shenandoah with his family. He earned a degree in Conservation Biology from SUNY ESF in upstate New York. While studying there, he was able to spend his summers at Nanjing Forestry University in Jiangsu, China, describing new species of frog and doing venomous snake research. He loves thermaling in his paraglider, freezing on the side of a mountain, or chasing cobras around a jungle. Tim's fun personality shines on his 2-6 day kayak camping tours.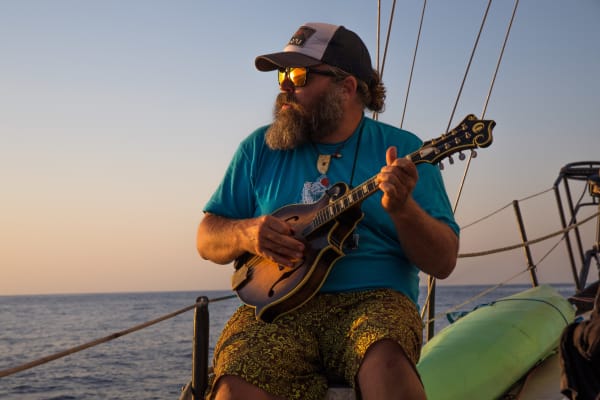 Timmy
(started in 1998) - Tim just loves to mess around in boats. He is not only a sea kayaker, he is also a canoeist, a sailor, and an oars man. Tim has kayaked in 18 states including Hawaii and Alaska, 6 Mexican states, and 3 Canadian provinces. During the summer evenings you can find Tim kayaking San Juan's west side or river kayaking on the mainland. In the winter you can catch him surf kayaking in Sayulita Mexico and working on photography projects or skiing with his brother. Tim would love to spend some time on the water with you. As Tim always says, "See you on the water".