This is the trip we have been perfecting for more than 25 years. Our guests enjoy the best food in the industry and we have real-time information about where whales have been spotted; making this the top family kayak camping tour in the San Juan Islands. We paddle from San Juan Island to small islands in the San Juan Archipelago where we set up camp and hike to scenic vistas. Wake up to beautiful sunrises and enjoy delicious breakfasts before spending the day on the water. Our guests are always impressed with the gourmet meals we make for them. Eating well is part of the experience and what we are known for! We can accommodate all dietary restrictions. Crystal Seas will provide everything you need to make your kayak expedition an enjoyable, relaxing adventure. No experience is necessary on our sea kayak camping trips.
Length: These tours range from 2-6 days in length.
Includes: All gourmet meals and snacks made with locally farmed produce when available, safety equipment and first aid supplies, SealLine dry bags, two-person MSR tents, Therm-A-Rest sleeping pads and pillows, Kokatat paddling jackets and pants, wetsuit booties, pogies and our incredible attention to detail. You need to bring, a sleeping bag (rentals are available), personal clothing and toiletries, a willingness to learn and a sense of adventure.
No experience is necessary. Please note that the vast majority of our trips follow the routes and itineraries listed on our website, but changes may occur for reasons of safety, weather, logistics and guide or administrative judgement.
Select Tour Length
Family Focused Kayak Camp to Camp Tour Highlights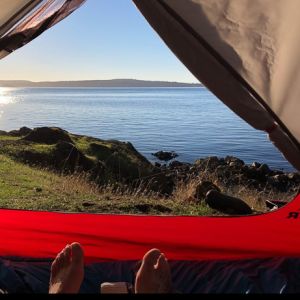 Included: Pacific Northwest Camping Experience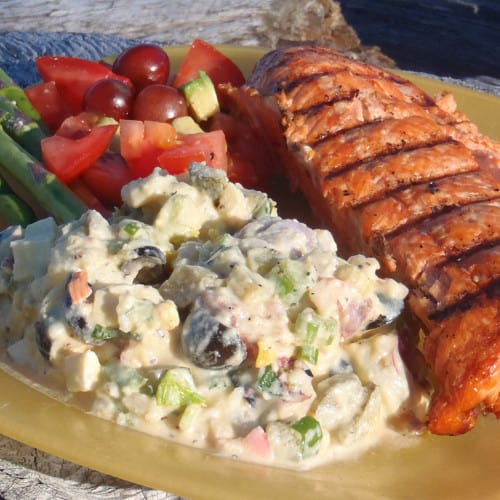 Included: Fantastic Meals (Breakfasts, Lunches, Dinners & Snacks)
Included: High Quality Sea Kayaks and Gear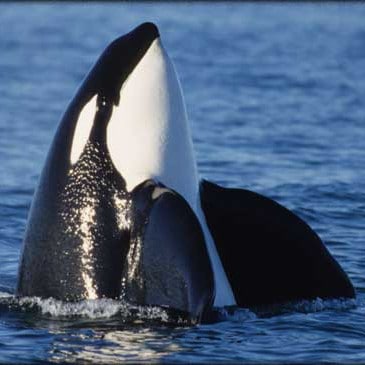 Included: Whale Watching Wildlife Cruise aboard the Odyssey
Amazing Wildlife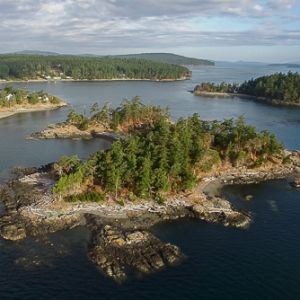 Pristine Island Scenery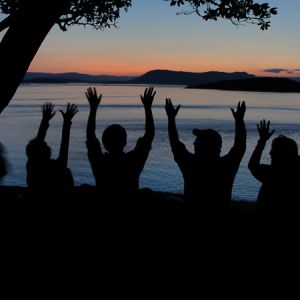 Unforgettable Memories
Small Group Sizes
Why Go with Crystal Seas?
The local experience
You're not just another tourist when you travel with Crystal Seas. Your family can experience island life through the eyes of a local, we are passionate about sharing these beautiful islands with you and letting you in on all our local secrets. We always keep the tides, currents, and weather in mind when planning our day to keep your family safe. We will take you to the best beaches for our lunch break and pick the best campsites available. Come adventure with us!
Amazing Campsites
Our campsites are in the remote outer islands of the San Juan Islands with well cared for facilities and potable water provided by Washington State Parks. While we prep you delicious meals, you can enjoy a seaside campfire and take in the gorgeous vistas these outer islands have to offer. Your family will love exploring the wooded islands and tide pooling along the shores.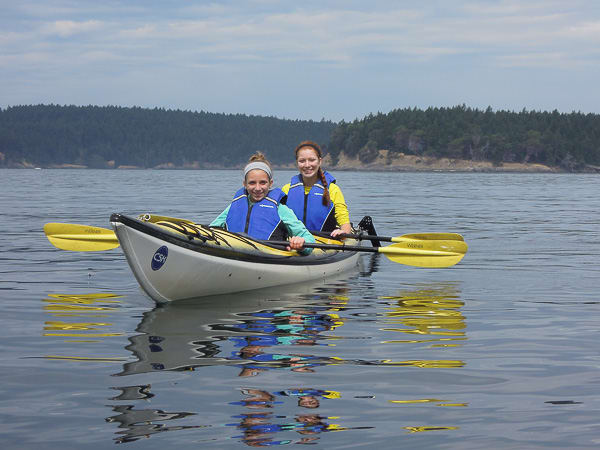 NO EXPERIENCE REQUIRED
We begin each of our sea kayak tours with a thorough safety/kayak lesson to familiarize you with your equipment and adequately prepare you for your adventure. The lesson includes paddling technique, sea kayaking safety, tips on loading and unloading of your sea kayak, familiarization with our safety gear and providing other helpful and necessary skills for our kayak expedition. Safety is our number one priority and we will always take your skills into consideration when planning our expedition.
Gourmet meals
We know that what you eat can be a major factor in the quality of your expedition and therefore we pride ourselves on the quality and heartiness of our well prepared meals. Starting with lunch on the first day and ending with lunch on your last day we provide all meals and plenty of snacks in between. Prior to your trip we send out food questionnaires and customize all of our meals to the various dietary requirements and preferences of all our guests.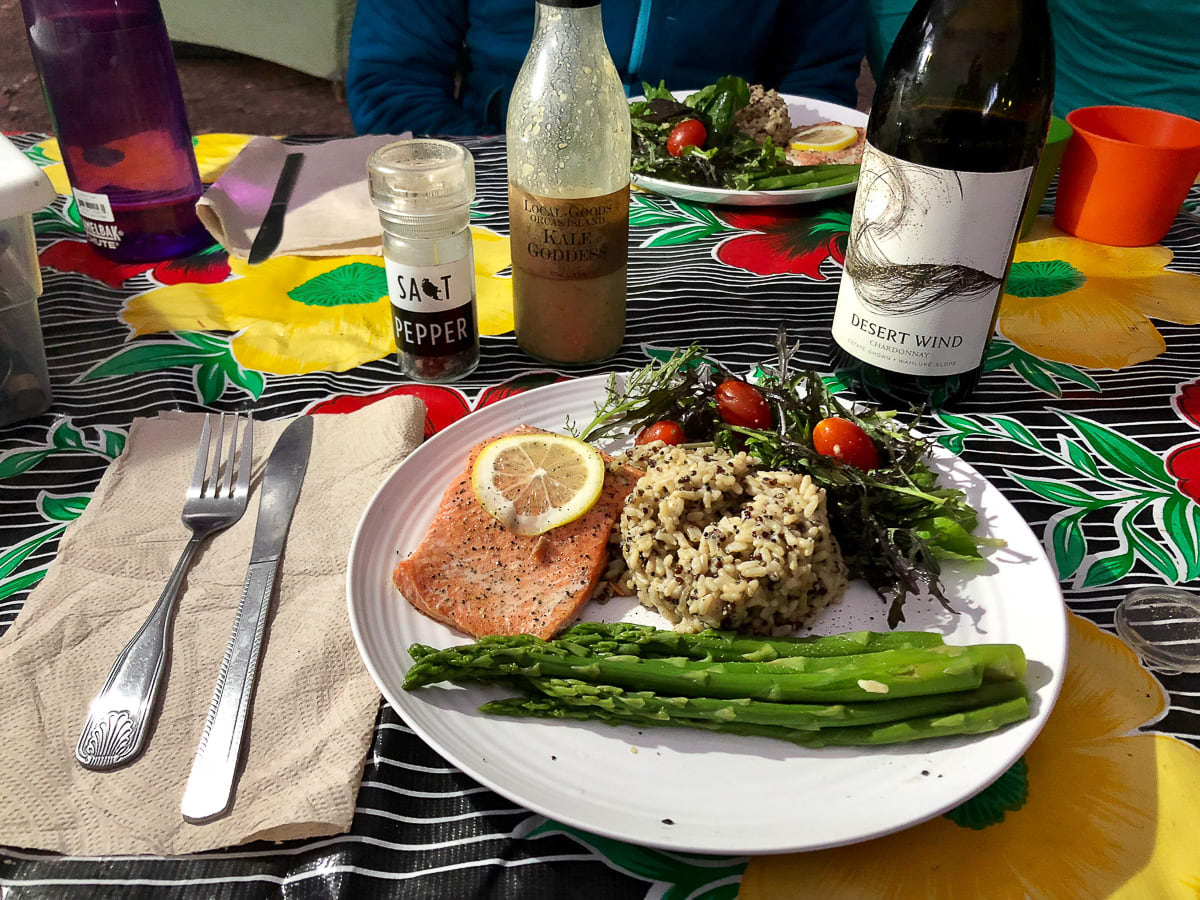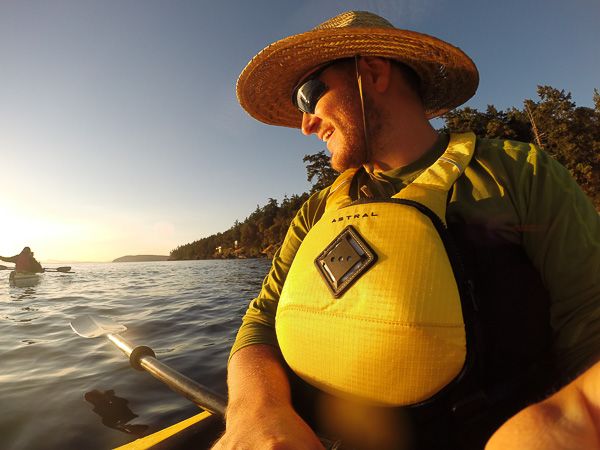 Professional guides
We strongly believe that an outstanding professional guide can make the difference between a good trip and a fabulous trip, therefore we place a lot of emphasis on providing the best guides available. We choose guides who are friendly, knowledgeable, have a great attitude, are excellent leaders, great teachers and who love what they do. Our guides are family oriented and fun loving people you'll want to squeeze in your suitcase to take home.
Small personal groups
Groups of 4 or more can request a private trip at no additional charge. Groups of two or three guests can buy one extra ticket to go private.
A great trip involves many factors. One of these is the group size. A smaller group is safer and allows for more interactions between the guides and guest. Furthermore, we can also adjust and modify the trip to the individual desires and interests of the group, allowing our guests to participate in various activities. With families we understand the needs of the group might change throughout the duration of a trip and we are always happy to make adjustments to accommodate.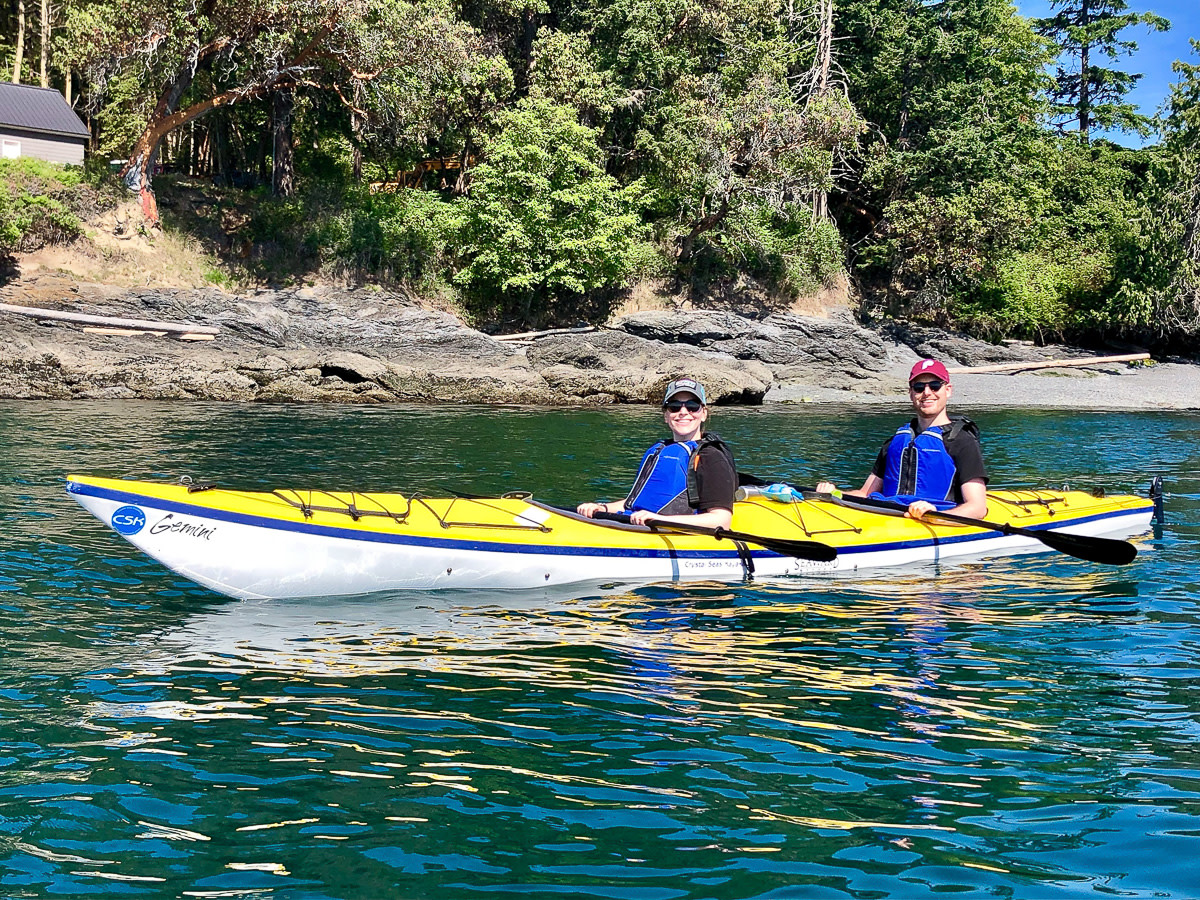 Our Gourmet Meals Are
At Crystal Seas, we pride ourselves on the quality, heartiness, and delicious flavors of our hand-crafted meals. Your tour includes lunch on the first day to lunch on the last, and all meals in between.
Fresh
Delicious breakfasts served at your remote campsite. Picnic lunches are prepared daily by your guides.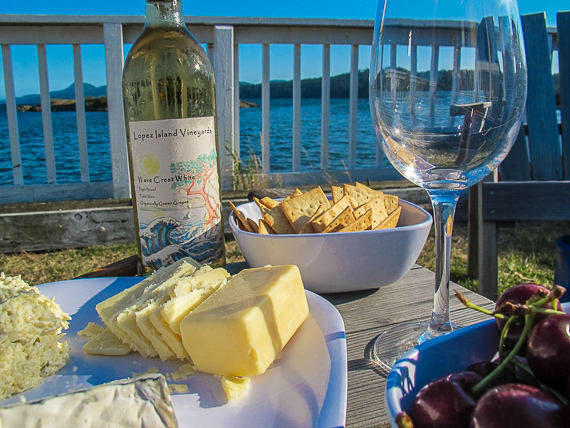 Local
We support our local community and source many of our ingredients from farmers and providers right here in the San Juan Islands.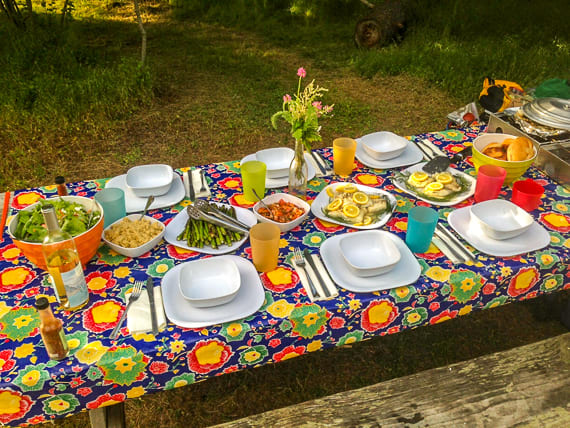 Organic
Eco friendly, sustainable, and GMO/pesticide free. A way of life for many islanders.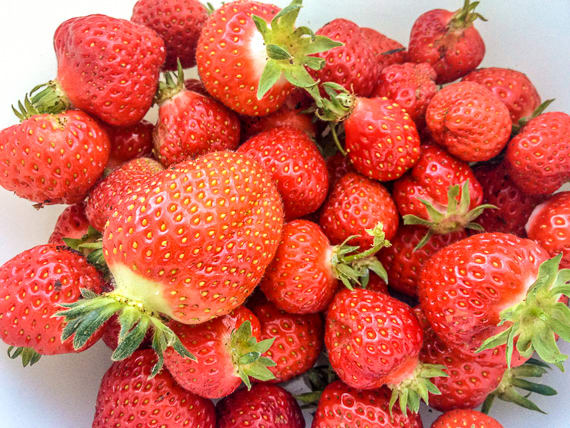 Personalized
Please inform us of your dietary preferences so we can prepare your custom meals. We can accommodate all eating preferences and allergies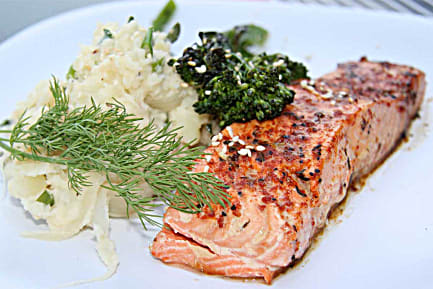 Sample Menu
Breakfast sandwich with egg, bacon, cream cheese, avocado, tomato, and spinach.
Fresh bakery San Juan baguette with house-made pesto, peppered turkey, sliced tomato, garden lettuce, and fresh mozzarella.
Wild and sustainably caught Alaskan Sockeye Salmon with a fresh garden salad and grilled asparagus served with a Washington wine.
*This is a small sampling of our many meals. Exact meals may vary based on dietary restrictions, allergies, food and beverage availability, trip duration and guide choices.
Frequently Asked Questions about Kayak Camping Trips
Even More Relaxed cancellation and refund policy
30 or more days before the trip date, full refund of all payments less a $30 per person cancellation fee. 0-29 days before the trip date, guests will be charged 100% of the entire trip cost and no refunds will be made. All cancellations must be in writing and charged amount is determined upon the date of receipt.
We ask for a 50% deposit when you make your reservation for a trip that is more than 60 days in the future. If the trip is 60 days or less in the future, then full payment upon making your reservation is required.