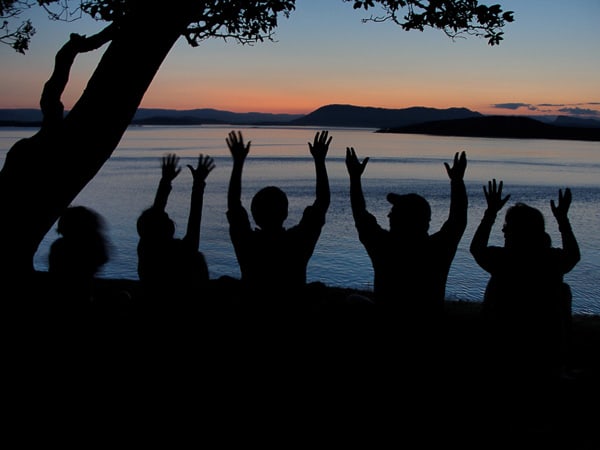 Family, Custom, and Private Sea Kayaking and Bicycling Tours
Each year we arrange many custom and private sea kayaking tours in the San Juan Islands. These may be for a large group, wedding party, corporate event or a private party who would like to paddle a special route. We can include whale watching, bicycling or hiking, to your custom kayaking tour as well as arranging special accommodations and dining. Whether it's getting married on a whale watching classic motor yacht with our sister company San Juan Excursions or a wedding proposal at sunset while sea kayaking the San Juans we will enjoy arranging these trips. Let us know what you have in mind and let our expertise make it happen! Special Offer: Book a whale watch boat cruise and sea kayak tour and save 10 percent on both. Please call for details.
Family trips
If you have a child who is between the ages of 5 and 9, you will want to let us know so that we can book you on a family tour. This way you can paddle at your families pace and we can customize your time on the water to the interests and needs of your family.
Custom Trips
We are able to offer custom tours for those who have special interests or are a unique group of people seeking a tour that differs from our regularly scheduled trips. We are happy to accommodate you as a small or large group or family on any of our day trips or multi-day tours.
Private Trips
Families, couples or corporate groups can book a private tour to accommodate their special needs and interests for an additional cost.